Exhibition "Adolf Vallazza - sculpture as project" in Niederdorf (BZ)
Fremdenverkehrsmuseum Haus Wassermann
from 30.07. to 30.09.2022
August: every day except on Sunday from 4.00 pm to 6.00 pm
September: tue + thu + sat from 4.00 pm to 6.00 pm
Exhibition "Adolf Vallazza – sculture" at Pisogne (Brescia)
Art gallery "MIRAD'OR" - Lago d'Iseo
from 11/12/2021 to 31/01/2022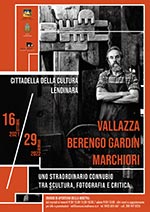 Exhibition "Vallazza – Berengo Gardin – Marchiori" in Lendinara (Provinz Rovigo)
An extraordinary combination of sculpture, photography and criticism
From 16/10/2021 to 29/01/2022
Tuesdays to Fridays 9.30 A.M. - 1 P.M. and 3 P.M. - 6 P.M., Saturdays 9 A.M. - 1 P.M.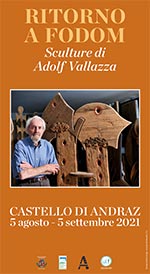 Exhibition in Andraz Castle
From August 5th to September 5th, sculptures by Adolf Vallazza are exhibited in Andraz Castle in Buchenstein (Pieve di Livinallongo del Col di Lana).
Menhir by Adolf Vallazza in ARTE SELLA
On August 7th, 2021, Adolf Vallazza's work "Menhir 2003" will be presented in the Arte Sella sculpture park (Val di Sella, TN) on the occasion of its inclusion in the permanent collection of the house. In the presence of the artist, the critic Maurizio Scudiero will give a brief introduction and present the latest publication "Totem & Menhir" (publisher nuovi sentieri editore, 2021).
The ancient silence of the mountains
November 2019, after a few days of snow I go up to Ortisei, I visit Adolf Vallazza, a wood artist. Of thrones and totems. Of Don Quixote and owls, of men who read and think. But he is also a friend suffering from a serious mourning....
Read the entire article in Italian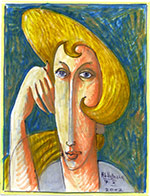 Adolf Vallazza, the master of living thrones
Whoever dedicates his entire life to representing thrones, in this case to carving, certainly has a royal imagination of life. There ist no throne without a king...
Read the entire article in Italian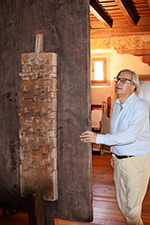 EXHIBITION ADOLF VALLAZZA
UNA STORIA SCRITTA NEL LEGNO
Palazzo assessorile Cles (TN)
06.07. - 23.09.2018
vernissage Friday, 06.07.2018, 18.00 h (the artist is present) curator Gabriele Lorenzoni
Read more
FORMS IN MOVEMENT – DRAWINGS AND SCULPTURES
Saturday, november 18, 2017, 17.30 h, at the showroom in Ortisei, via Rezia 285
Lecture by Gabriele Lorenzoni, curator at Mart, Rovereto
The exhibition is open until 31.01.2018, please contact us for your visit: +39 338 5620865.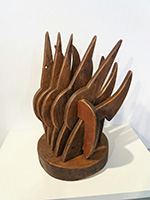 From 21.07 to 29.09.2017 in the showroom in via Rezia 285 in Ortisei you can visit the "MOVINGSHAPES - EVERYTHING MOVES, EVERYTHING RUNS, EVERYTHING FLOWS FAST" exhibition. For info please emaIl us at info@adolfvallazza.com or contact us by phone (338 5620865 or 3356783342).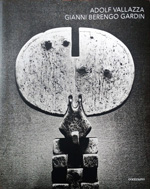 From 13 april 2017, the book
ADOLF VALLAZZA – GIANNI BERENGO GARDIN
Opere / works / Werke 1970 – 2016
Contrasto editore, Rome 2017
is available in bookshops, on website of contrasto editore or in the artist's atelier in Ortisei (price: 35,00 €).
presentation
ADOLF VALLAZZA – GIANNI BERENGO GARDIN
Werke / Opere / Works 1970 – 2017
thursday 13.04.2017, 18.00 h, Museion Passage, Bozen
introduction: Letizia Ragaglia and Paolo Crepet
Adolf Vallazza and Gianni Berengo Gardin are present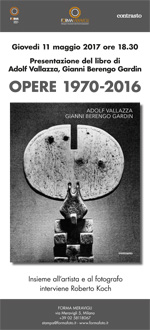 presentation
ADOLF VALLAZZA – GIANNI BERENGO GARDIN
Werke / opere / works 1970–2016
thursday, 11.05.2017, 18.00 h
Galleria FORMA - via Meravigli, 5 - Milano